Installations
With more that 40 years experience in installing Audio, lighting and A.V systems, you can be assured that pacific can deliver the right solution for your install project.
Both Paul and Matt have extensive experience of venue installation across Audio, Lighting and A.V. systems. We are ECS construction industry approved install technicians and hold S.P.A. health & safety passports.
From initial inquiry to final commission of project, our dedicated team will design, inform, liaise to provide the complete installation service. If required we can provide full training and tutorials as part of the installation package and carry out annual servicing to ensure that your equipment is always kept in peak condition.
We can specify a full range of equipment solutions from all the major manufacturers to ensure we exceed your requirements. We can also offer a full CAD design service or work with existing CAD designs.
Soundcraft & Martin Audio at flagship Glee Club
Sales of Soundcraft's new Vi1 compact digital desk have immediately gone into overdrive, report UK and ROI distributors, Sound Technology, rapidly boosting inventories in both the rental and permanent install sectors.
In the latter category, Paul Duffy's Pacific Sound & Light have been quick to install a 32-input board at the new flagship Glee Club in Nottingham – a hybrid theatre which hosts, comedy and an eclectic mix of both emerging and established song-based artists.
Pacific recommended the desk to Glee Club owners, Comic Enterprises, after working on the resident 'parent' Soundcraft Vi6 console at the O2 Arena's IndigO2 while on tour last year. This led to an invitation for a demo at the Soundcraft HQ.
At the same time, SSE Audio Group had also been speaking to Pacific, which resulted in Jon Nash, the venue's production manager, heading across the Midlands to attend SSE's Vi1 launch / training day (the first in the UK).
All parties realized that this compact would provide the right solution and SSE duly arranged shipment. Having provided problem-free Martin Audio solutions to Comic Enterprises for the past ten years, the British manufacturer again became Paul Duffy's first port of call for sound systems.
"After using EM's in the early days and later Blackline, we were introduced to the new W8VDQ hybrid," explained Duffy. Combining line array and differential dispersion technologies to provide an advanced solution to the requirement of even coverage over wide angles and throw distances, the system was designed for an awkward shaped venue such as this. The short throw horizontal dispersion is 120º, narrowing to 100º as throw increases.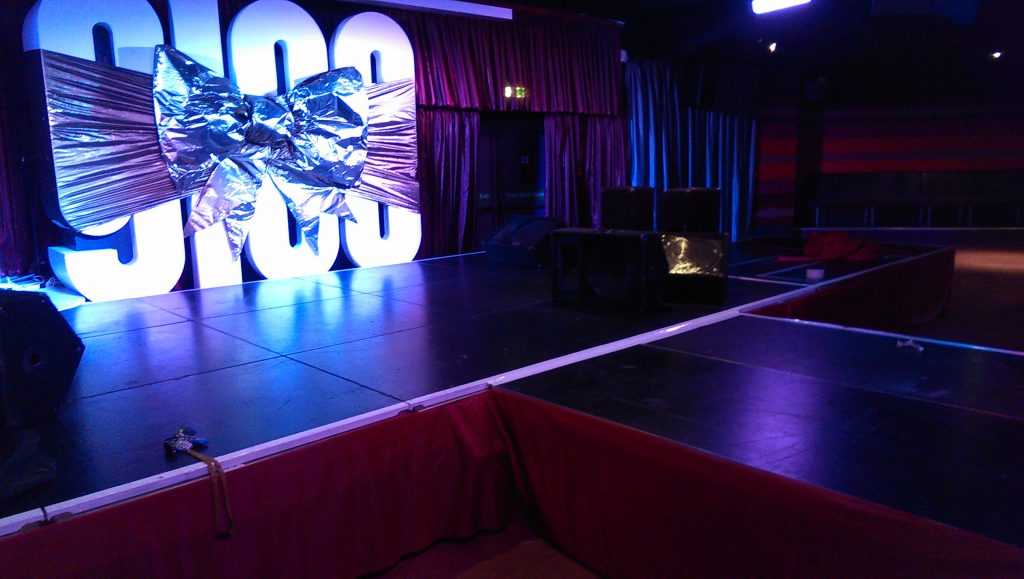 Comic Enterprises' artistic director, Alistair Cunningham, had requested high-end sound reinforcement with the emphasis on speech intelligibility and Paul Duffy's concern was to provide rider-friendly components while being further hampered by the existing steels and infrastructure within a Grade II-listed building.
Martin Audio lent technical support in the form of Al Brown and the room measurements were taken and dispersion characteristics duly formulated. "The sound needed to be very focused," stated Duffy. "We stripped out the old Jongleurs system and set out to replace lots of speakers on delays with a single point source; the wide dispersion characteristics of the VDQ fitted the bill perfectly."
A total of nine W8VDQ's were commandeered – a pair each mounted to the steel stanchions in the main space, left and right of stage (one front facing the other for out-fills). Meanwhile, up on the roof a classic L/C/R design, with the enclosures flown from the steel joists, fires deep into the balcony.
A pair of Martin Audio WS218X subs add low end extension – and these can be relocated to the second room as necessary, since the VDQ's are quite capable of reinforcing the full vocal range for speech without further assistance.
The remaining pair of W8VDQ's are used, front-facing, down in the smaller first floor room, with outfills provided by a pair of Martin Audio AQ8's.
A dedicated DX2 system controller processes and optimises the main theatre sound, and a DX1.5 does likewise in the smaller room, while artistes benefit from six of Martin Audio's low-profile LE1200's for their reference sound.
To complete the Martin Audio inventory, Pacific Sound & Light specified Martin Audio MA6.8Q and MA4.8Q amplifiers to drive the primary systems.
Jim Evans
28 September 2010